Setouchi Kirei Mega Solar Power Plant Construction Project History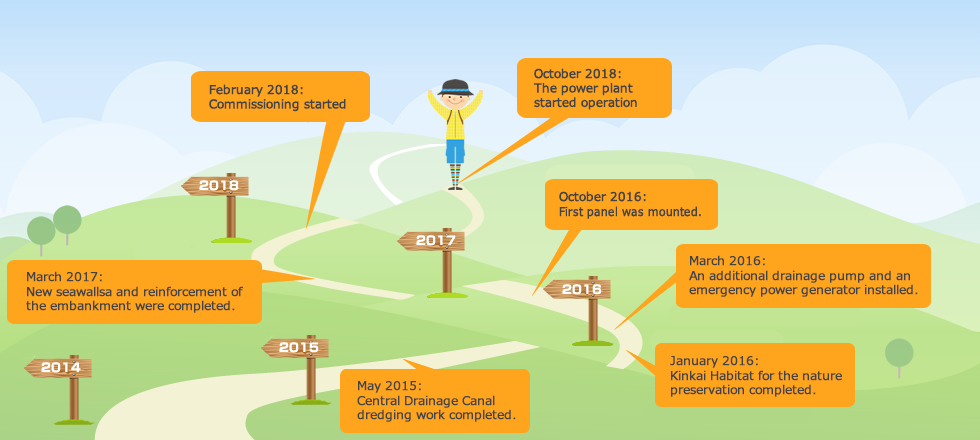 ■2018
| | |
| --- | --- |
| October 2018 | The power plant started operation |
| February 2018 | Commissioning started |
■2017
| | |
| --- | --- |
| March 2017 | Sea walls and embankment strengthening construction works were completed and donated to the City pursuant to Kinkai ex-Salt Field Utilization Business Agreement.Embankment completion and donation ceremony. |
■2016
| | |
| --- | --- |
| October 2016 | PV panels installation started. |
| April 2016 | Pump donation ceremony |
| March 2016 | New pump installation and emergency power supply facility construction works were completed and donated to the City pursuant to Kinkai ex-Salt Field Utilization Business Agreement. |
| January 2016 | Kinkai habitat for environment preservation was completed. |
■2015
| | |
| --- | --- |
| June 2015 | SPC relocated from Marunouchi, Chiyoda-Ku, Tokyo to Setouchi City. |
| May 2015 | Central Drainage Canal dredging work was completed and donated to the City pursuant to Kinkai ex-Salt Field Utilization Business Agreement. |
| March 2015 | Chudenko became a member of the SPC. |
■2014
November 2014
Ground-Breaking Ceremony for Setouchi Kirei Mega Solar Power Plant was held.
September 2014
EFS Japan B.V., GE EFS's subsidiary, and Toyo became members of the SPC.
SPC entered into the Syndicate Loan Agreement with 28 Financial institutions. Mandated Lead Arrangers were 3 Japanese Mega Banks, The Bank of Tokyo Mitsubishi UFJ, Ltd., Mizuho Bank, Ltd. and Sumitomo Mitsui Banking Corporation.
July 2014
SPC entered into Agreement on Purchase, Supply and Interconnection of Renewable Energy Sourced Electricity with Chugoku Electric.
March 2014
The City and SPC executed the Kinkai ex-Salt Field Utilization Business Agreement & Land Lease Agreement.
■2013
October 2013
Okayama Prefecture, the City and SPC executed the Nature Preservation Agreement.
SPC obtained 'Permit for a Large Scale Development' under the Okayama Prefecture Land Preservation Ordinance.
March 2013
The Consortium member companies developed 'Basic Plan for the utilization of Kinkai ex-Salt Field'.
February 2013
SPC obtained from Ministry of Economy, Trade and Industry a Facility Authorization (setsubi nintei) under the Act on Special Measures Concerning Procurement of Electricity from Renewable Energy Sources by Electricity Utilities.
■2012
| | |
| --- | --- |
| October 2012 | KUAM, as a representative of the Consortium, and the City executed the 'Basic Agreement' whereby 'Development of the Basic Plan for the Utilization of Kinkai ex-Salt Field' was entrusted and the basic arrangements regarding the implementation of the project were agreed. |
| September 2012 | Setouchi Future Creation Consortium (the "Consortium") composed of KUAM, Toyo Engineering ("Toyo") and some other companies responded to the City's RFP and was selected by the City. |
| August 2012 | Kuni Umi Asset Management ("KUAM") incorporated Setouchi Future Creation LLC ("SPC") as a project implementing body. |
| July 2012 | Setouchi City (the "City") announced an RFP for plan to utilize Ex-Kinkai Salt field site as a mega solar power plant (a public proposal type contractor selection process). |